So, how much packing have you accomplished since my last post? I don't know why I'm assuming you guys are all moving along with me, but for some reason I feel like you are. No? I'm alone in this Moving Hell? Okay, well, I'll just keep on doing my thing then.
This is a photo of me. This is a photo of me on Moving Day at the end of 2012. I am sweating because I moved almost my entire apartment by myself (exceptions: a desk, a dresser, a bookshelf, a bed). That makes me both stinky and a badass. Often times these two things go together. If you want a few tips from a frequently moving lady like myself, well you're in the right place. First, read my Moving Checklist (Part 1). When you're done, you can pick up with the rest of my tips here. Let us begin (again).
1. If at all possible, avoid a U-Haul when you are moving across town.
See, you should've befriended a dude or lady with a pickup truck a long time ago! This is where these people have a solemn duty as large-vehicle owners to help out their moving friends in need. I mean it's just something you agree to when you buy a truck. Your friends are going to ask for your help moving. Deal with it.
U-Hauls are overpriced when you use them for short distances. It cost almost $100 each for my roommate and I to use one for only about 40 miles of driving, which was when the photo above was taken. That day was the last time I'll ever use a U-Haul for such a small distance. (To be honest, the U-Haul was mostly for her stuff... Mine was moved solo throughout the week before, which is where Instagram Photo #1 above is from.)
If you are moving across town and you can take several trips in your own vehicle before Moving Day, do this. That way the truck is mainly used for large furniture and heavy boxes you can't get by yourself. I really hate using U-Hauls because I'm a DIYer, which I guess is kind of ironic because U-Hauls are supposed to be the DIY of moving vans. Maybe U-Hauls are now the "mainstream indie" moving van and the "true hardcore DIY" vehicle of choice is taking your car to your new house 15 times solo and then borrowing your buddy's pickup truck one day for all of the large items. At least that's how I do it. #movingchamp
2. Make Moving Day just that: MOVING day.
Moving Day is--hang on. I'm not on my giant soapbox yet. Let me get my megaphone out. Just gimme a sec... Okay, let me try again. MOVING DAY IS NOT ABOUT PACKING OR ORGANIZING THINGS!!!
*Ahem* Yes. So. If you are enlisting the help of your friends on Moving Day, you best have your crap together and ready for those extremely kind and courteous individuals to participate in the only four steps they should be worried about: 1) Pick up box or furniture. 2) Put box or furniture in vehicle. 3) Remove box or furniture from vehicle. 4) Put box or furniture down somewhere in new residence.
You should have your friends meet you at 9:00 in the morning, fed and ready to work. If they are on time and you are prepared for their arrival, the packing of your moving vehicle should really take a maximum of four hours. MAXIMUM. Do not make your friends wait around while you pack, participate in packing, organize your stuff, or clean your old apartment. These are all things you can do alone. It was really nice of them to say yes to your pleads for assistance, so please don't make them do more than necessary, or waste their entire day. That's just plain rude!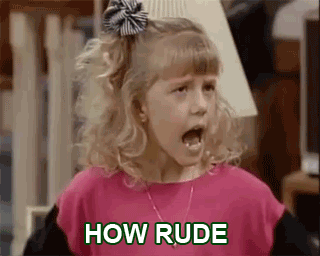 3. Clean everything before unpacking.
Ugh. This is the worst. But it really needs to be done. Wipe down bathroom walls with hot, soapy water (not a ton, just a damp rag); clean out kitchen and bathroom cabinets; scrub the heck out of your sinks, toilet, and shower; mop all of the floors. You'll probably want to consolidate your boxes into one room or in a designated corner of a room so you can clean around them as you go. This is just the worst part about moving so I'm gonna leave it at that.
4. Change your address.
This seems like an easy step, but it involves a lot more than just filling out a forward address form with the post office (which you can do online). Here are some other places you'll need to think about changing your address:
Credit cards
Bank accounts
Direct deposit enrollments
Your employer(s)
Driver's license
Passport
Healthcare offices (doctors, dentist, veterinarian, etc.)
Online accounts with shipping information (Amazon.com, Etsy, etc.)
Mailing subscriptions (magazines, catalogs, etc.)
You'd be surprised how many places use automatic billing or shipping that may need your new address. I've made the mistake before of not informing my doctor's office, and when they went to bill me, I never got the forwarded mail and ended up with a past due notice. Whoops!
5. Change over your utilities and services.
Some utilities may have to wait until the day before to change over, but you can always call your gas company, electric company, water/sewer, and cable/Internet ahead of time to give them your end date at your old residence. Doing all of this in advance really helps provide a seamless transition from one house to the next. I recommend ending your utilities at your old residence not on Moving Day, but on the day after. That way you can still use electricity, A/C, etc. while you are moving all of your belongings. You'll definitely need to keep that refrigerator running so you can store cold water and/or beer for your moving helpers. Crucial pieces of advice, I tell you.
Services like your cell phone won't need to be changed, unless the city you are moving to does not support your wireless carrier. But, you will need to call or go online to change your address for that billing service. Don't forget about your renter's insurance!
So, how does it feel being more "in the know" about what it takes to ensure a smooth move? I bet it feels pretty dang awesome. If you want more tips, don't forget to check out my Part 1 of this checklist so you can get the full scoop. You can also reflect a little bit about the emotional side of moving by watching the second episode of (Re)invent Life with myself and Relocation Expert Allegra Stein. Join in the discussion by tweeting with #reinventlife to share your thoughts and experiences on moving!
The moving series on Rental Revival will continue once I get to my new place. Wish me luck, and patience... I'll definitely need it.
Check out the rest of my moving series:
I'm Moving!
(Re)invent Life: Episode 02 - Relocation
Moving Checklist (Part 1)
Moving with Pets